Are You
Frustrated by Meetings Leading to Low Teamwork and Performance?
What Kinds of Meetings Need Facilitation?
The benefits of synergistic meetings are meetings that have energy, are focused, generate buy-in, commitment, and action steps. These are meetings that have accountability and create results. Meetings that create a high-performance team through the facilitation skills, and the synergistic meeting format.
I can guide you, your team, or your group to create alignment, commitment, and results. There are five steps in which you can take to create great results in stage one. There are five steps in stage two. And those are assessing, buying clarity, decision execution The Synergistic Facilitation Model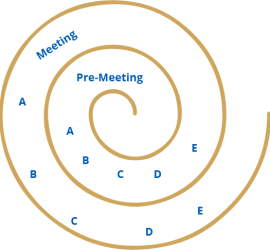 Low Performance
 High Performance 

High Teamwork

Collegial, friendship based
Lack of effective focus
Insufficient sense of urgency
Change resistant – Don't "Rock the Boat"
Incompetence tolerated
Not results oriented

Sense of connection and fun

Successful, Fun

Synchronicity, Flow

Challenging Goals, Inspiring vision

Change Proactive

Open Communication

Great Teamwork – "How do we continue to  improve"

 Low Teamwork

Atmosphere of criticism, blame, & cynicism

Overwhelm

No Fun

Fear of job loss and company failure

"firefighting", short-term orientation

Turf protection

One step forward,

Poor teamwork

 Focus is efficiency

"Just Do It!" Bottom-Line Orientation

Retention Problems, High Turnover, Burnout

Guarded

Clear Objectives

Driven

Competitive
"Facilitation is the art of leading people through processes towards agreed-upon objectives in a manner that encourages participation, ownership and creativity by all those involved"
Ongoing Sessions with Accountability
So, if you feel like your essential plans are missing their mark, employees are leaving meetings without buy-in, you have frustrating sessions that do not achieve desired results, have unengaged team members, unproductive, unfocused, unengaged meetings then contact us in the form below